CORONAVIRUS (COVID-19) VIRUS PROTECTION POLICY
STAY SAFE WITH US!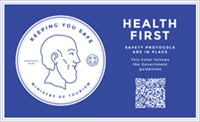 Thank you for your preference in "Private Villas by Anemomilos" for your holidays this summer in Santorini Island!
Now, more than ever, we are focused on the health and safety of our guests. As you consider your upcoming travel plans, we want to make the experience as worry-free as possible. Thus, we encourage you to advise the World Health Organization, your local health authority and our team when making your travel plans.
What make us differ from other hotels:
All our rooms have independent air conditioning system with autonomous handling of each room and not through a central system.
Most rooms have an independent entrance with direct access to the room and a private terrace or balcony with an outdoor seating area.
The size of the common areas as well as our swimming pool is so large in relation to the number of rooms that there is no case of overcrowding or gathering of many people and much longer distances are maintained than required distances both in the pool area and in the breakfast area.
Ability for electronic check in / checkout.
Our Commitment to Cleanliness:
At our hotel, hygiene and cleanliness are always prioritized. In addition to the high standard cleaning processes we already perform, we have taken additional precautionary measures:
Increased hand- washing and sanitation of our staff members
Providing more hand wash and sanitation products upon check in to our guests
Frequent sanitation of the common areas, more publicly used surfaces of the hotel
Rooms thoroughly sanitized by our experienced Housekeeping Staff. We use detergents and general cleaning products certified for their high disinfection ability.
Extra precautionary procedures for food products and meal preparation
Daily monitoring and adhering to the latest information, protocols,and tools from the World Health Organization
Santorini island has International Airport and General Hospital
Moreover, please note that our team members are trained to handle situations that may occur at our hotel and we have confidence in their abilities. Our efforts are focused on providing you a safe and enjoyable stay both at "Private Villas by Anemomilos".
'Private Villas by Anemomilos will be operating as normal, and with safety as our main priority and we will be taking every precaution for our guests to feel safe when staying or visiting out hotels.
Should you have further questions about our safety procedures and making a reservation, do not hesitate to contact us at info@anemomilos.com
Above all else we would like to reassure you that the safety, health and wellbeing of our guests and staff always has been, and always will be, our number one priority.
Stay safe but keep dreaming and keep making plans!
We remain at your disposal and we are looking forward to welcome you!
Private Villas by Anemomilos Management & Team